Ordering Your Custom Screen Painting
Delays due to
due to CoVid-19
Orders may be delayed due to State guidelines regarding the Coronavirus Pandemic.
Keeping everyone's safety in mind, social distancing will be observed during screen drop off and pick up.
Specific design details will be worked out via emails instead of in-person consultation as much as is possible.
Please feel free to
email me
anytime to:
discuss your order,
receive a free estimate,
exchange images and design ideas,
place your name on Anna's customer wait list,
and for your virtual personal design consultation.
I am not taking phone orders at this time. Please order via email.
Please Stay Well and Stay Safe this Summer.



Anna's Painted Screens will resume taking commissions on a first come, first serve basis in 2023.
Thank you for interest in Anna's Painted Screens and for your patience.
Anna's next availability to commission your custom screen painting will be early 2023.
Contact Anna to discuss your design and get a personal price quote before you buy!
Use the pull-down menus below to estimate your price to have your screen painted.
If you are in the Baltimore area you may schedule a curbside drop off of your window screen(s) to my home studio near BWI Airport.
I will provide directions when you schedule.

Shipping options are also available.
It is important and it is the customer's responsibility to properly mark the TOP OUTSIDE of your screen with tape when you are removing it from your window so I will know the correct orientation to paint your screen. It is not always obvious which is the top and the inside.
I can not be held responsible for improperly oriented screens.
First come, first serve.
I generally paint customer screens in the order I receive them.
Please allow 4 to 5 weeks for completion from the time I receive your screen.
Visit my original website for comprehensive information and tips on How to Order your screen painting.
Find a Screen Painter here.
Pay On-line!
Pay for custom screen paintings and purchase gift certificates for a very unique and personal gift online via PayPal.
Cash and personal checks are accepted in person. Credit card/PayPal payments are accepted on-line only.
Generally, no payment is due until you have viewed an image of your screen via email and upon receipt of your finished screen.
Your screen acts as your deposit.
Exceptions:
Deposits are required for custom interior screen art when no exterior window screen is provided
Payment in full required before shipping.
How Much Will My Screen Painting Cost?
Get Your Estimate
Use the pull-down menus below to get a rough estimate of the cost to have your screen painted.
Note: I've proudly kept my prices for custom screen art the same for the last ten years.
Beginning 2023, there will be a 15% price increase due to significant increases in paint and supply costs.
Prices currently listed on the pull-down menus below will be adjusted 15% higher on estimates.
Pricing depends on size and complexity of your design.
Scroll down to select your window size to find your estimated cost.
To calculate the sq ft of your screen, multiply the screen Height x screen Width and divide the product by 144.
(ex: 30"H x 34"W = 1,020 sq in; then 1020 ÷ 144 = 7 sq ft)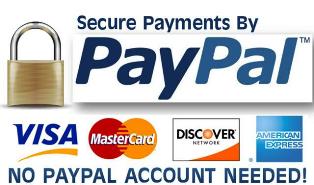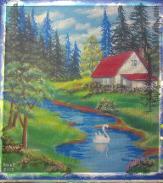 Traditional scenes painted on your window screen.
DO NOT PAY UNTIL YOUR SCREEN IS COMPLETED
Get a more accurate price quote from Anna via email.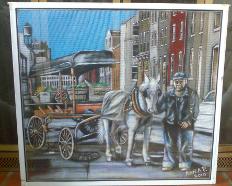 Your personalized design painted on your window screen.
DO NOT PAY UNTIL YOUR SCREEN IS COMPLETED
Ask Anna to guide you to the best pricing before you pay.
Ask Anna about special pricing for services such as custom interior screen art and re-screening your tattered window screens.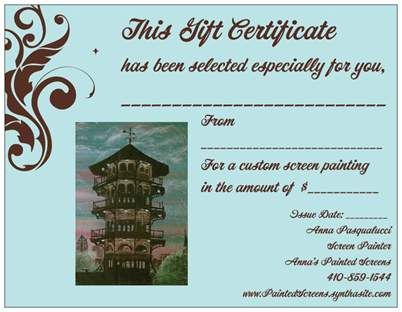 Gift Certificates are temporarily unavailable until later this year.
Give the gift of an original one-of-a-kind Baltimore window screen painting to your special someone.
The gift recipient will receive a free design consultation with the artist, either by phone, online, or in person, to have their window screen painted wit
h an personalized design of their choice.
I apologize that PayPal has made changes and has discontinued the "Buy Gift Certificate" option. If you are experiencing problems with online ordering, please email Anna to request a that a printable gift certificate.