Ongoing Exhibits
Learn more at www.paintedscreens.org

Jim Rouse Visionary Center - 1st floor

Baltimore Painted Screen Pop-Up! This Summer 2017

A quaint and cozy exhibit of vintage and contemporary screens in the heart of Baltimore's painted screen neighborhood, Highlandtown.
Painting classes
Screen art gift shop
House & Home Exhibit opened May 8, 2012 - May 2017
See painted screen door by Master Painter Dee Herget
Featured Baltimore's painted screens
PAST EXHIBITIONS & EVENTS
Wed, Oct 7, "Nights in Rodanthe" and a day at the beach painting lesson
Thurs, April 2, 7 pm, Painted Screens Presentation North Carroll Branch Library, Hampstead, MD
Sun, April 12, Guided Tours of the Billie Holiday Project Artworks
Sat. June 13, Fifth Annual Maryland Traditions Folklife Festival
Sat, July 4th, Monumental Bicentennial Celebration
2015 - April 2016 - Crystal Moll Gallery
Wed, April 27, 2016 Painting a flyswatter screen at Sandbar Dreams LLC
May 20, 2016 -Painting presentation/demo by Anna at Augsburg Village.
May 5 - June 25 RETRO-VINTAGE SHOW, Highlandtown Gallery 248 South Conkling Street, Baltimore, MD 21224. 301.370.0115
June 4, 2016 - Maryland Traditions Folk Life Festival screen painting workshops
Sept 10, 2016 - Hampstead Farmers' Market Demonstration Day
Sept 24, Single Carrot Theatre Baltimore exhibit, courtesy Crystal Moll Gallery
Nov 18, 7 - 11 pm, Stoop Soirée Benefit for the Downtown Baltimore Family Alliance.org at AVAM
Oct - Nov 2016, Domino Sugar Sign Show at Crystal Moll Gallery
Nov 7 - Dec 30, Holiday Artist Boutique, Montpelier Mansion Artists' Boutique
Nov 30, 2016 - Jan 27, 2017 "BEST of 2016" SHOW Crystal Moll Gallery
Jan - Feb 2017 "100 ARTISTS SHOW" Highlandtown Gallery
June 3, Mercy Live! Gala to benefit Mercy Medical Center
The Baker Artist's Awards 2016
Baltimore's Best 2016
Anna's "Pride of Baltimore Sailing by Domino" window screen painting was featured in Baltimore Magazine's August 2016 "Best of Baltimore" issue.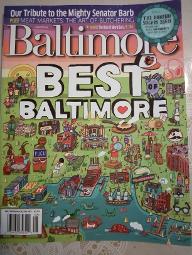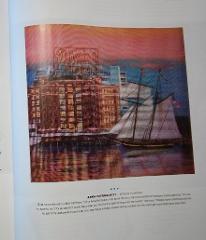 Something Old, Something New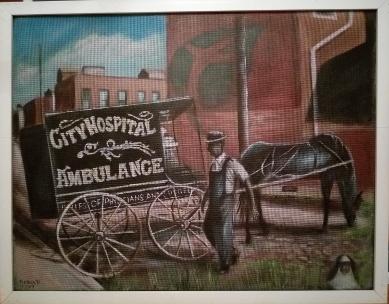 Calendar of Events
to Paint the Town!
Important Dates
Saturday, August 19th ~ SCREEN PAINTING CLASS
June 2 through September or beyond, Baltimore Painted Screens
Pop-Up Shop!
Something Old, Something New!
Open: First Friday evenings and Saturday's 11:00 AM - 5:00 PM
Location: 3522-A Bank Street @ Conkling St
(Entrance on Conkling between the "Red Roof" awnings.)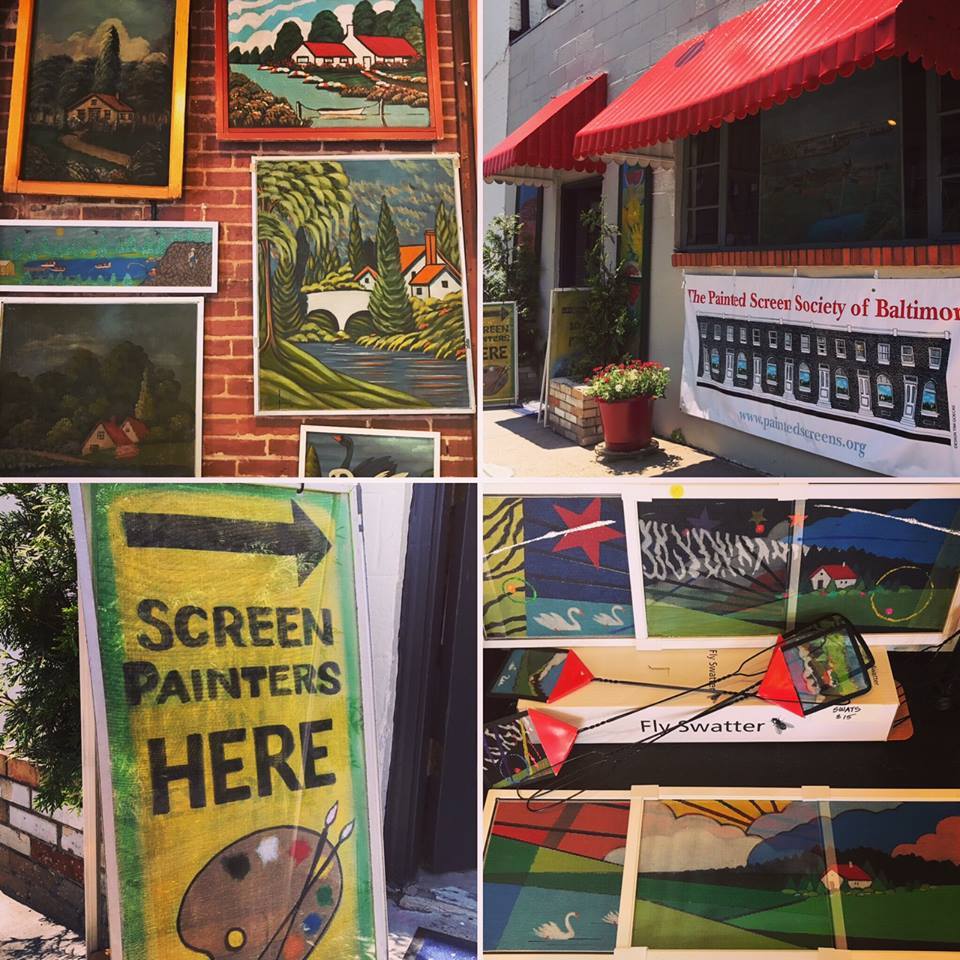 A calendar of special Painted Screen events is in the works. This will be a great opportunity to have your screen painted or possibly learn to do it yourself!
In addition to "exhibited" work, there will be screens for sale as well as painted screen inspired objets d'arte. Not to mention
THE BOOK
and the Movie!
SCREEN PAINTING CLASSES at the POP-UP!
Saturday, August 19, 1-4 pm, $30 pp - Registration is open
More dates to be announced for September
SCREEN PAINTING CLASSES at the PoP-uP
Registration and Information
Our next class is August 19, 1-4 pm.

3522 Bank St, Highlandtown. Entrance under the Red Awning on S. Conkling.
Participants will paint and take home your very own small 10"x 20" screen! All supplies are provided.

Drop-ins are welcome.
$30 fee, payable at the door or ahead of time if you wish to guarantee a seat.
To guarantee a space, your payment must be received by Wednesday, August 16th.

(See payment instructions below.)



Please wear suitable clothing for painting or a cover-up to protect from spills or splatters. The classroom space will be air conditioned, but feel free to bring a drink to refresh during the hot summer afternoon.
If you wish to reserve your space, please prepay online with credit card via PayPal, go to my Buy-Online page at http://www.paintedwindowscreens.com/buy-on-line.php and Select Option 5, $30 USD.
For more details, contact the instructor at AnnaPasqualucci@gmail.com
or
Sign up at the Pop-Up
or

Take an Art Class this Summer!
July 28, Friday night artworks. "Crash Course Art Outlet" ages 16 – adult, Learn to paint a small window screen in record time! (one 2-3 hr session) 6:00-8:30 pm Chesapeake Arts Center - Registration CLOSED
July 29, "Peek a Boo, I See You - Paint a Screen Mask" ages 6 & up (one 2 hr session) Screen painting workshop for families, 1:00-3:00pm Chesapeake Arts Center - Registration CLOSED
August 19, Screen Painting Classes at the Pop-Up Shop with Anna Pasqualucci, 1-4 pm, Contact Anna for details, $30 pp advance payment will hold your space
August 26, 11 am -3 pm, FREE! CAC Art in the Park Festival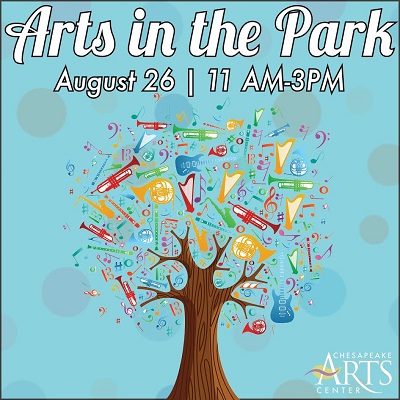 June 10, Noon -7 pm, FREE! Maryland Traditions Festival
Meet the Screen Painters inside the Creative Alliance.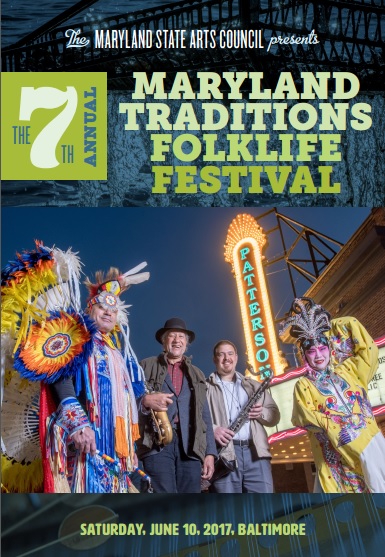 Visit the Gift Shop with a view to die for from the 27th floor of the Trade Center and buy Anna's screen art at the Top of the World, open year-round.
401 E. Pratt St, 21202, Baltimore Inner Harbor 410-837-VIEW
Phone ahead for availability of specific screen art and painted crab shells.

Specialty Sales in Highlandtown
"Dreams of Olde" twists and re-shapes our memories of days gone by. The retro sculpted relief is available this summer at Highlandtown Gallery 248 South Conkling Street, Baltimore, MD 21224. 301.370.0115, Gallery hours: Th-F-Sat, 8 am - 5 pm.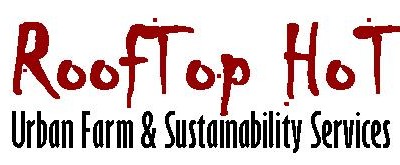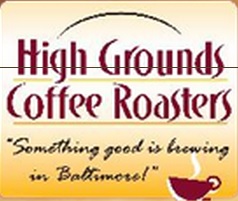 Ask about "See-Through" window screen art at the Pop-Up Shop
"Hanover Street Bridge Lace"