"Painting the Town, One Window at a Time"
Celebrating more than 100 Years of Baltimore Window Screen Painting!
Screen painting offers a personal decorative touch to your home exterior
and provides you with degree of desirable privacy.
Amaze your neighbors with a magical painted window screen
Ask about having your custom privacy screen painted for home, business, city,or shore.
Customer satisfaction is a highest priority.
I offer a three year guarantee on paintings on metal wire. Each window screen is hand-painted especially for you with a design of your choice. Some commissions include a complimentary maintenance touch up, Prices start at $50 and average $15-30 per square foot, depending on the size of the screen and the design. Convenient pick up, rescreening, and delivery are available.
Get your free estimate here.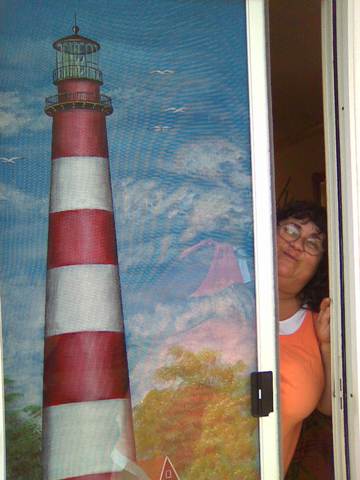 A happy customer peeks out of her privacy screen.
"You see out. No one sees in."